Stella is among millions of learners who were in higher learning institutions in different parts of the world when COVID-19 pandemic struck. As a young girl with a physical disability who uses a wheelchair for mobility and has a condition called spinabifida, quality education is the key to opportunities that she needs to overcome disability related challenges and access her desired opportunities. Echoing the words of Horace Mann "Education is the great equalizer of the conditions of men and a balance wheel of the social machinery". For more than one billion persons with disabilities spread across the globe, education opens doors to opportunities and provides an avenue for breaking barriers such as unemployment and innovations to address disability specific challenges.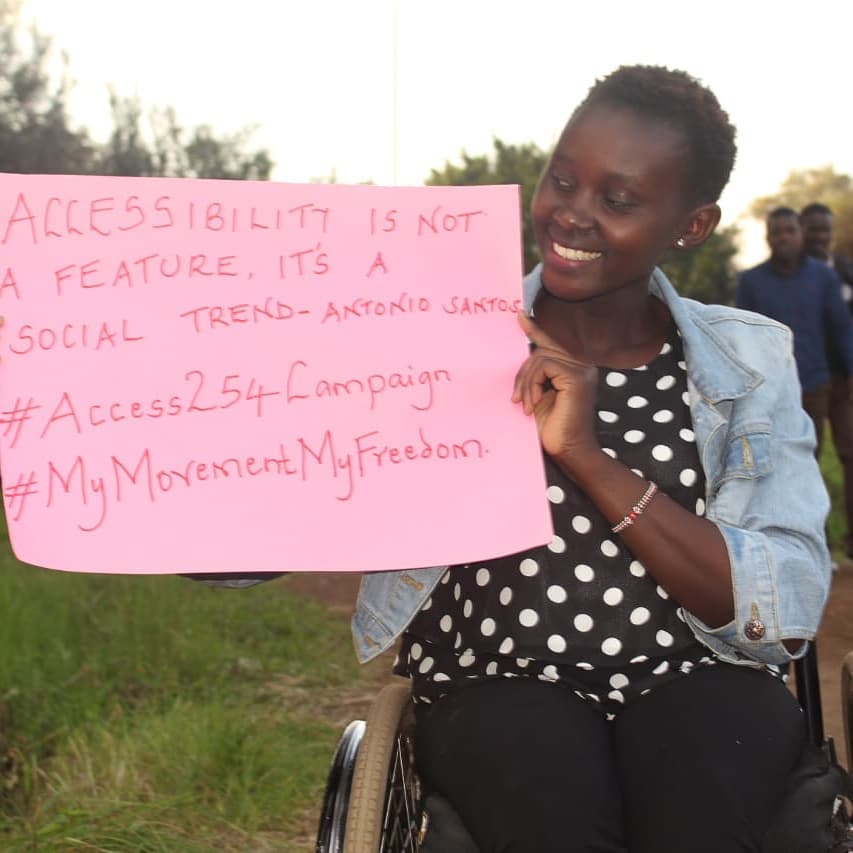 In March 2020, President Uhuru Kenyatta issued a directive on closure of all learning institutions in Kenya, Stella was in session at the University of Nairobi, Main Campus pursuing a degree in Journalism and Media studies. She quickly picked a few of her personal belongings and informed her sister who lives in the city about the development and opted to stay with her as she assessed how the pandemic unfolded. Two weeks later Stella moved to Thika, Kiambu County where she has been staying with her sister to date as she looks forward to the reopening of the University for on Campus learning. At first she was excited to take a break from the rigorous academic program. As days turned into weeks and weeks into months with the rapid spread of the Virus, reality dawned on Stella that the pandemic had disrupted her studies; something she had not foreseen!
While in Thika, Stella thought of productive ways of spending time as she adhered to Public health restrictions. Her sister encouraged her to enroll for swimming classes, something she embraced and even considered gym sessions. She demystifies the misconceptions that persons with disabilities, especially those on wheelchair cannot engage in health and fitness activities and goes on to share some disability friendly exercises for people with disabilities in her YouTube channel. Her advice is that health and fitness remain a critical aspect in the lives of persons with disabilities majorly because they are more vulnerable to non-communicable diseases owing to the body imbalances caused by various types of disabilities. For instance, she says that wheelchair users are likely to develop pressure sores because of sitting in one position for too long, they are likely to develop scoliosis due to the weak muscles and might also have contracted muscles. All these adverse effects can be managed by regular disability friendly exercises, she says. When not busy with health and fitness activities, Stella finds fulfillment in cookery and is gracious enough to share some videos of great recipes on You Tube that her followers can try out.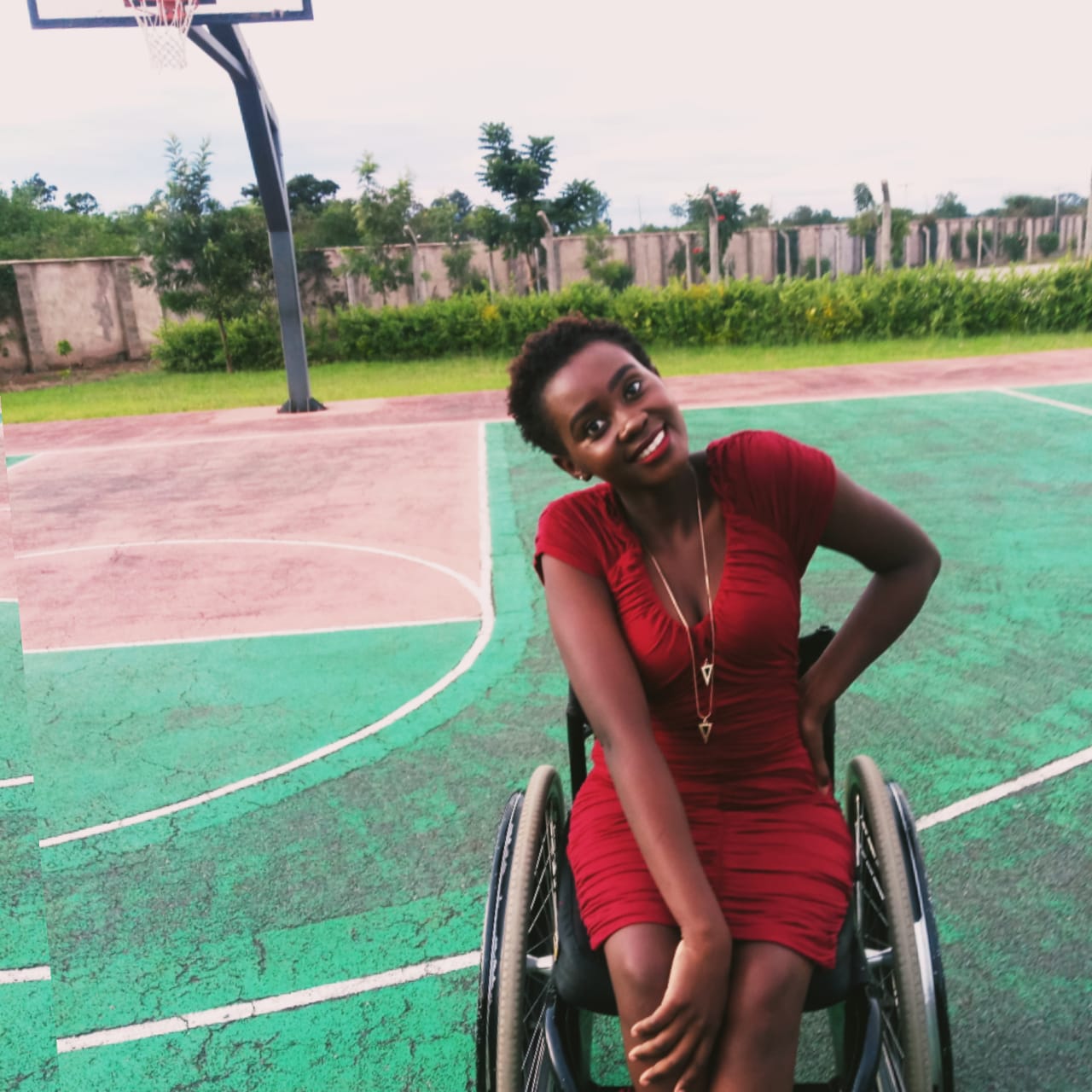 Stella's hopes for continuation of her studies were rekindled when the University of Nairobi adopted online learning to mitigate the adverse effects of COVID-19 on higher education. The virtual learning provided her an opportunity to complete the semester and sit for the end of semester exams. She was able to navigate the online learning platform with ease, something she considers impactful in addressing the education gaps that had been caused by COVID-19.At the time of our conversation Stella had completed her end of semester exams and was looking forward to begin a new semester.
While things seem to have worked well during the pandemic, certain things were unbearable to Stella owing to COVID-19. For instance She has not been able to use Public transport during the pandemic owing to social distancing measures enforced by the government."Would you allow the "Makangas" to carry and lift you into the "matatus" during the pandemic?" She asks. Since March she has been staying at home due to her vulnerability to the virus which is heightened by inaccessible public transport.She reiterates that people with disabilities have been pushed to forced isolation due to inaccessible public transport that increase their vulnerability to COVID-19. While non-disabled persons can enjoy free walk in the central business district as they adhere to public health restrictions persons with disabilities are forced to isolate. She further explains that access to medical supplies has been cut off during the pandemic. In her case she uses a wheelchair for mobility and a gel cushion to protect her from pressure sores. She has been forced to put up with a broken wheelchair and dysfunctional gel cushion. At the moment she is unable to use public transport to travel to Kijabe hospital and fix the gel cushion or to Association of Physically Disabled of Kenya to repair the wheelchair, further there are limited options in terms of facilities that offer orthopedic services. With the onset of the pandemic more focus has been put on containing COVID-19, therefore neglecting other healthcare needs of persons with disabilities.
The greatest lesson that Stella draws from the COVID-19 experiences of young women with disabilities is that Accessibility is paramount and should be upheld as a right of persons with disabilities. She runs a campaign dubbed "Accessible Kenya Campaign" which aims at promoting accessibility for people with disabilities. She draws her inspiration from her personal experiences when pursuing her dream career as a News Anchor. She could not enroll in Kenya Institute of Mass Communication and Multimedia University because the institutions were not ready for her due to inaccessible infrastructure. Even as she settled to study at the University of Nairobi she had to deal with accessibility challenges something she believes is a barrier to equitable opportunities for young girls with disabilities like her. . She encourages young women with disabilities to stand for their rights as that is a determinant of their brighter future. "If we had accessible transport we would be going about our normal lives despite the pandemic" says Stella.
Follow Stella and her campaign on Accessible Kenya:
IG: am_a_wheeler
Facebook: Stlchess Tiyoy
Twitter: @tiyoy_stella
You Tube: Stella's Adventures
Accessible Kenya Campaign:
IG: Accessible Kenya Campaign
Facebook: Accessible Kenya
Twitter: @access_kenya